With the start of summer comes the amazing sweet fruit options I have missed dearly like the taste of local strawberries that are as sweet as candy and also our family favorite – mangos! So when we have really stocked up on some delicious fresh mangos, I like to throw some into a quick and easy mango cobbler dessert!
This mango cobbler recipe is perfect for gatherings or just for the family. I totally take advantage of using shortcuts for this easy mango dessert because I honestly would much rather be spending more time outdoors in the nice weather than in the kitchen!
Summers don't last too long in our area so quick and easy is how I roll during this season!  Although I absolutely love baking all kinds of cake, I am more than happy to use a simple boxed cake mix for this recipe.
Best of all – this is a 3 ingredient recipe! Yes, that is how simple this delicious mango dessert recipe truly is!
Let's Talk About Mangos!
In Canada we typically have access to fresh mangos from around April to August. The summertime ones tend to be the sweetest when fully ripened – which usually means soft to the touch – but not too soft!
Keep your unripen or firm mangos on your kitchen counter or at room temperature until they start to soften. If the skin is too soft and has become wrinkled, the mango may have gone bad or is just over ripened.
A tip I learned from my mom is to wrap them in newspaper. This helps to further the ripening process along faster!
One of the best indicators that a mango is sweet is the smell. Typically a sweet smelling mango means it is ripe and ready to eat.
Try these other fruit desserts:
Cake Mix isn't Just for Cakes!
I have personally used store bought cake mix boxes to use for quick and easy cobbler and pie recipes. I love to make things from scratch of course, especially if I can make something with more wholesome ingredients and without as many preservatives. But a box of cake mix for a quick dessert really comes in handy!
I'm not really tied to any particular brand of cake mix. For this recipe I usually go with a simple white or yellow cake mix. This time I changed it up and tried a Butter Pecan flavor. It was absolutely delicious!
Mango Cobbler Recipe Tips
This post contains affiliate links. If you make a purchase through our links we will earn a small commission at no additional cost to you. Read our full disclosure policy here.
Use a nice non-stick baking pan like this one.
How many mangos do you need for 1 cup?
Mangos come in different sizes depending on the variety. Based on the size of the mangoes I typically get in the grocery store – usually from South American, I would say approximately 1 mango is equal to 1 cup. However if you are looking at the smaller ones such as the Ataulfo kind, also known as honey mangoes, then you will probably need to 2 of them to equal 1 cup.
Can you replace mangos with another fruit for this recipe?
If you are not into mango recipes, you can definitely use another fruit. I have made this with strawberries, canned pie filling such as cherries and blueberries, apples (I add cinnamon, brown sugar and vanilla to the apples though) and of course I love using fresh peaches too…honestly any fruit works.
Can you make mango cobbler with frozen mango or other frozen fruit?
Yes, frozen fruit works too.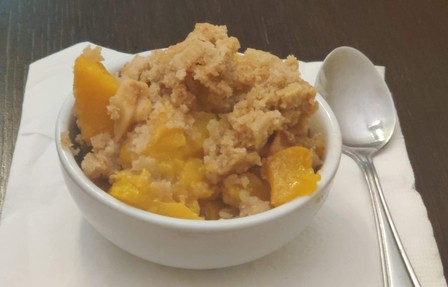 Yield: 6 to 8 servings
Simple Mango Cobbler with Cake Mix
A sweet and delicious fruit and cake recipe
Ingredients
5 cups of sliced or diced mangos (appoximately 5 or 6 fresh mangos)
1 yellow or white cake mix box
1/2 cup unsalted butter
Instructions
Preheat ove 350 F
Place mango on the bottom of a baking pan
Top the mango with the full box of cake mix, spreading it evenly over the mango pieces
Place butter over top in small chunks
Bake for 35 to 40 minutes or until golden brown on top
Notes
Serve warm with ice cream or whipped cream