Before we dive into my awesome orange cake recipe, in case you haven't read about my love affair with cake, I'll link my Chocolate Cannoli Cake recipe so you can check it out there. LOL. Then you will understand why I feel so strongly that it's a must to eat cake on your birthday!
I don't care how old you are, in my family if you have a birthday I am asking you what flavor of cake you want to eat on your special day. I get pretty excited about baking the cake (even if it's my own birthday cake…yes, I make myself a cake as well 🙂 ).
So when it was my husband's birthday I was shocked that his request was not the traditional 2 layered cake but a… BUNDT CAKE? Yeah, the cake has a hole in it (My Big Fat Greek Wedding, it never gets old). Ok, so it's not your plain old bundt cake. He asked for my special homemade orange cake that I happen to make in a bundt pan!
I guess our idea of birthday cake changes a little when we get older and don't have all your friends over wearing birthday hats and blowing on noise makers…ugh, how I hate those things. OMG, if that doesn't give away my age then I am sure that the My Big Fat Greek Wedding reference will! Oh well, I am happy to eat this orange cake on any occasion.
I just love the flavor of freshly squeezed orange juice in this cake. If you love that citrus flavor, you must try this Lemon Buttermilk cake as well!
Note: Affiliate links may be used in this post. I may receive a small commission at no extra cost to you if you make a purchase through my affiliate link. Read my full disclosure policy here.
How to Convert From Bundt to a Regular Cake
In case you don't have a bundt pan or just want to make it a traditional cake, you can definitely do that. To convert the orange cake recipe to a cake pan instead of a bundt pan, a 6 cup bundt pan is equal to a 9" round pan. I would recommend keeping the bake time the same and checking at the end to see if the cake is done. If not then let the cake bake for another 5 minutes or so.
What I love about this cake is that it's super moist thanks to the added orange syrup which is brushed on after the cake is baked. This orange cake is full of flavor, moist and just heavenly delicious.
What is Orange Cake Glaze?
A glaze is generally a mixture of sugar and a liquid which makes the consistency thin enough to be poured over a cake. Alternatively, frosting is thicker and opaque and is spread on a cake to cover the outside.
Can You Freeze Orange Cake?
This cake can be put in the freezer and last for at least 4 months. It make change the consistency of the glaze a little, but I found when I thawed the orange cake, it was much more moist and still tasted great.
Yield: 8 servings
How to Make Orange Cake - The Best Recipe Ever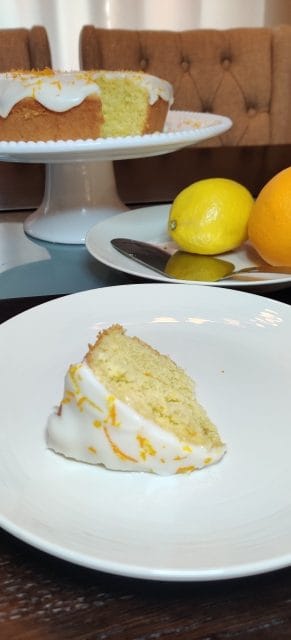 Orange cake with cream cheese glaze and orange syrup
Total Time
1 hour
30 minutes
Ingredients
1 1/3 cup all - purpose flour
3 Tbsp cornstarch
1 ½ tsp baking powder
¼ tsp baking soda
¼ tsp salt
½ cup unsalted butter at room temperature
¾ cup sugar
1 tsp lemon zest
2 tsp orange zest
2 large eggs at room temperature
1 tsp vanilla extract
¼ cup sour cream at room temperature
½ cup freshly squeezed orange juice
Ingredients for Orange Syrup
2 tbsps freshly squeezed orange juice
1 1/2 tbsps sugar
Ingredients for the Cream Cheese Glaze
2 tbsps cream cheese softened
3/4 cup powdered sugar
1-2 tbsps milk
Instructions
To Make the Cake
1. Preheat oven to 350F
2. Prepare a 6 cup bunt pan by spraying with non-stick cooking spray or greasing and flouring it. Set aside.
3. In a medium bowl, stir together the flour, cornstarch, baking powder, baking soda and salt. Set aside.
4. Using a stand mixer or a handheld mixer in a larger bowl beat the butter on medium speed until creamy, about 1 – 2 minutes.
5. With the mixer running on med-low speed, gradually add in sugar, orange and lemon zest. Now increase the speed to med-high for another 4-5 minutes until the color turns very pale and the texture turns fluffy.
6. Add eggs one at a time to the mixture
7. Add in the vanilla, sour cream and mix until it's well incorporated.
8. Reduce the mixer speed to low and add a few scoops of the flour mixture until well combined. Then add in some of the orange juice. Keep alternating between the flour and orange juice until the batter gets smooth. Try not to over mix.
9. Using a rubber spatula give the batter one final turn to make sure that the batter is nice and smooth, then transfer the batter into the prepared bunt pan.
10. Bake for 30 minutes or until the center of the cake bounces back when lightly touched or when a wooden skewer inset comes out
clean.
11. Let the cake cool slightly and in the meantime make the orange syrup.
Orange Syrup
1. In a small saucepan over low heat, combine orange juice and sugar and bring to a simmer, just until the sugar dissolves.
2. Remove from heat
3. Using a skewer, poke tiny holes all over the top of the bunt cake while still in the baking pan.
4. Brush the surface of the cake with about 1/3 of the syrup.
5. Once the cake is completely cooled, transfer it to a serving platter and brush on top and sides of the cake with the remaining orange syrup.
Cream Cheese Glaze
1. In a med bowl using a mixer beat the cream cheese until smooth. Add in the powdered sugar and milk until the mixture is thick yet pourable.
2. Pour glaze over the cake and garnish with strands of orange peel.