This lemon buttermilk cake recipe is tangy and sweet, moist and just pure perfection. I love making this cake for when I am entertaining. Its always a crowd pleaser. This delicious cake is sweet but the tanginess of the lemons really balances it out.
What Does Buttermilk Do To a Cake?
I didn't really bake with buttermilk much. But then I decided to try incorporating it into this lemon cake recipe to see what would happen.
Boy am I glad that I did! My cake turned out super light, moist and tender. I was truly impressed with the texture of the cake. I no longer shy away from buttermilk in my desserts.
How to Make Lemon Cake Without Buttermilk
I was always turned off by cake recipes that used buttermilk because I never had any on hand and didn't like having to rush to the store to buy it just so it can sit in my fridge.
So I found a simple buttermilk substitute with ingredients I have in my kitchen already – milk and lemon juice. Now I don't have to worry about not having special ingredients for this cake!
Check out some of our other cake recipes:
Homemade Chocolate Cannoli Cake
How to Make a Buttermilk Substitute
Pour 1 tablespoon of lemon juice or white vinegar into a 1 cup measuring cup. Fill the rest of the 1 cup with milk. Stir and let rest for 10 to 15 minutes until you see it start to curdle.
How Do I Make My Cake More Moist and Fluffy?
Well, I've already gone on about the use of buttermilk so we know that helps! But there are a couple of other things you can do.
Note: Affiliate links may be used in this post. I may receive a small commission at no extra cost to you if you make a purchase through my affiliate link. Read my full disclosure policy here.
In fact I go into greater detail about it in my recipe for Light and Fluffy Baked Donuts. Basically other tips are:
1. Use cake flour instead of regular all-purpose flour – cake flour is made from a soft wheat which helps create an airy batter and gives the cake that fluffy texture.
2. Its best if the eggs, butter and milk are at room temperature
3. Take time to properly cream the butter and sugar together until it looks light and fluffy
Take a look at this beautiful, modern cake stand!
Moist Lemon Buttermilk Cake Recipe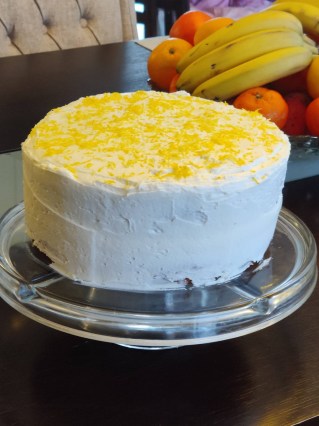 Lemon buttermilk cake with a creamy lemon frosting
Ingredients
2 ½ cups all purpose flour (sifted) or use 2 ¾ cups of cake flour and omit the corn starch below
¼ cup corn starch (omit if you are using cake flour)
2 tsp baking powder
1 tsp baking soda
½ tsp salt
2 cup granulated sugar
10 tablespoons unsalted butter softened
4 large eggs
¼ cup canola oil
Zest of 2 lemons
1.5 tbsp vanilla extract
1 tsp lemon extract
1 ¼ cup of buttermilk - see notes for how to make a substitute
Lemon Frosting Ingredients
1 1/2 cups softened unsalted butter
3 tbsp buttermilk
2 tbsp fresh lemon juice
6 cups powdered sugar
Instructions
Instruction for the Cake
Preheat oven to 350 degrees F. Spray with cooking spray 2 9"
round cake pans.
Using an electric mixer or stand mixer cream butter and
sugar until light and fluffy (5 minutes or more)
In another bowl sift together the flour, corn starch (if not
using cake flour), baking powder, baking soda, and add salt. Mix well with fork.
Once butter/sugar mixture is creamed well, lower the mixer
speed and add eggs one at a time, oil, lemon zest, vanilla and lemon extract.
Turn off the mixer and scrape the bowl with a rubber
spatula, turn the mixer back on low and start adding the flower mixer and buttermilk alternating between the two until well combined.
Pour the cake batter equally between the 2, 9" pans and bake
on the middle rack for 35 minutes or until a toothpick insert comes out clean.
Allow the cake to cool for 15 minutes in the pan and then carefully flip them out on a cooling rack.
Instruction for the Lemon Frosting:
1. Cream butter in a mixer for about 5 minutes until fluffy, scrape the bowl down with a rubber spatula and mix in the buttermilk and lemon juice.
2. Slowly add the powdered sugar one cup at a time and mix until nice and smooth and no clumps.



Notes
To make 1 ¼ cup of buttermilk, substitute 1 tbsp + 1 tsp lemon
juice and fill rest with milk to make 1 ¼ cup. Let rest for 15 minutes before incorporating it into the recipe.