This strawberry cream cheese trifle is so delicious and a perfect desert to serve at your next BBQ. It's so simple to put together and definitely a crowd pleaser. This beautiful, colorful and cool dessert is simply irresistible!
What are the Layers of a Trifle?
A Trifle is a cold dessert made of layers of cake, fruit and cream. Of course there are many variations of this dessert. This strawberry cream cheese trifle recipe is made of layers of a delicious homemade pound cake, custard, strawberries and whipped cream.
Homemade Pound Cake
In this strawberry cream cheese trifle, I use my pound cake recipe which is heavenly all on its own. However you can definitely use store bought angel food cake for this strawberry trifle instead if you are not in the mood to bake a cake and then cut it up into pieces.
I also think that the best time to consider making trifle desserts is when you have a cake fail on you! We have all had a cake overbake or collapse more than once in our life time and what better cake hack to save a cake than to make a trifle out of it!
If you love fruit flavored desserts, try this Orange cake recipe, and this moist and delicious Lemon cake.
Affiliate links may be used in this post. We may receive a small commission at no extra cost to you if you make a purchase through our affiliate link. Read my full disclosure policy here.
The Strawberry Trifle with Custard
When I think of a trifle the first thing that comes to my mind is custard, and for me it has to be the Bird's brand Custard Powder. I grew up on this stuff and thankfully it is available in most grocery stores here in Canada. Also Bird's custard can be found in some specialty grocery stores as well, or you can order it online.
When summer is right around the corner, what better dessert is there to make than one which consists of fresh fruit and fluffy cream! If you are going to make this strawberry trifle, it is worth investing in a beautiful pedestal glass trifle bowl which really makes a statement! If you haven't invested in one, this one is a nice modern style.
The one I have in mulit-functional and doubles as a cake holder like this one.
Will this Trifle Hold its Shape on a Warm Day?
Because of the custard and the whipped cream, I recommend that you store the trifle in the fridge until you are ready to serve it.
Also I have made this strawberry trifle recipe with cream cheese not just because I love the taste! The cream cheese also acts as a stabilizer when mixed with the whipped cream. By using cream cheese, it will help the whipped cream hold its shape while outside of the fridge and look pretty for a longer time. If you were wondering how long does a trifle need to set, with the help of the cream cheese, you don't need to worry about that.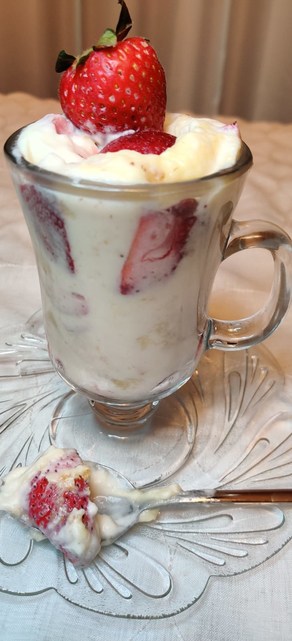 Can you Make the Strawberry Cream Cheese Trifle Ahead of Time?
Short answer is NO! I would not recommend making this dessert in advance as it will not hold its shape for that long. Eventually the fruit will let out its own juices and cause the trifle to get soggy.
However, I would recommend that the Bird's custard powder and the pound cake be made one day in advance as you want them to be completely cooled before adding them to the trifle.
How Long Can the Strawberries and Cream Trifle Last if You Have Leftovers?
Unless you are making this for only yourself, I doubt you will have any leftovers! But if you do happen to have some, I would recommend that it be placed in an air tight container and kept in the fridge up to 2 days.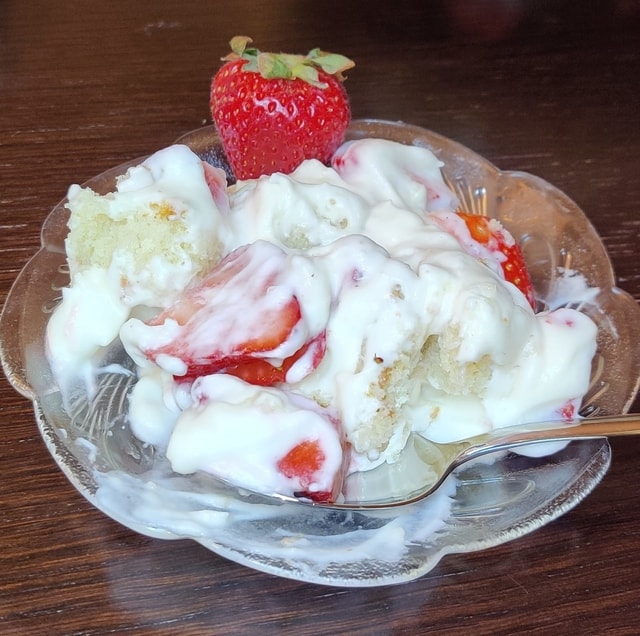 Can I Make this Trifle Using Different Fruits?
Yes, you can experiment and use fruits of your liking or whatever fruit happens to be in season. Some examples of fruits that go well in a trifle would be:
Blackberries
Peaches
Kiwi
Pineapples
The list can go on and your options are endless.
How Should a Trifle Be Layered?
Place a layer of pound cake at the bottom of your large glass bowl. Top it with custard, then strawberries, and finally top it with whipped cream. Repeat this until the bowl is filled. At the very top, decorate the trifle with fresh strawberries and whipped cream.
How to Make a Strawberry Trifle:
Yield: I large dish
Strawberry Cream Cheese Trifle with Pound Cake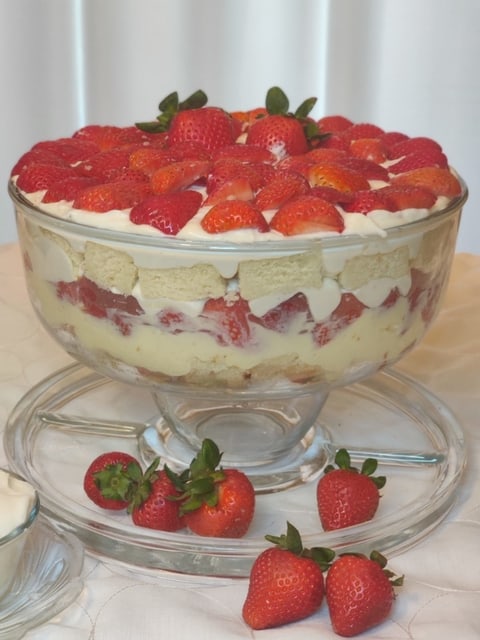 This is a lovely cold dessert made with pound cake, strawberries, custard and cream.
Cook Time
1 hour
15 minutes
Additional Time
10 minutes
Total Time
2 hours
10 minutes
Ingredients
1 Cup unsalted butter at room temperature
1 cup granulated sugar
2 large eggs at room temperature
1 Tsp baking powder
1 tsp salt
¼ tsp baking soda
2 cups all-purpose flour
1 cup yogurt (full fat)
2 tsp vanilla extract
Making the Cream
2 8oz packages of cream cheese softened
2 cups powdered sugar
2 Tbsp vanilla extract
4 Cups heavy whipping cream
For the Trifle
3 lbs fresh strawberries washed and cut - keep some for the top of the trifle
1 Pound cake cut into small cubes
Custard
Whipped cream and cream cheese mixture
Making the Custard
Instructions
For the Pound Cake
Preheat oven to 350 degrees F. Lightly grease a 9" baking pan
In a large bowl add flour, baking powder, salt, baking soda together and give it a good stir with a fork and set aside.
In a mixing bowl on medium speed beat the butter and sugar for about 2 minutes or until mixture is light in color and airy looking.
Add one egg at a time, beating for one minute between adding the next.
Reduce the speed to low on the mixer and add ½ of the flour mixture.
Pour in the yogurt and vanilla to the batter and the remaining flour mixture until just blended.
Pour the batter into the prepared baking pan and bake for 50-60 minutes or until insert comes out clean.
Remove cake from oven once done and let it cool in the pan for 15 minutes before turning it onto a cooling rack. Allow the cake to cool completely before cutting into it.
Cut cake into small cubes and set aside in an air tight container until you are ready to assemble the trifle.
Making the Custard
Prep Time: 5 minutes
Cooking time: 15 minutes
Tip - Custard should to be made one day ahead of time as you do not want to be adding hot or warm custard to the trifle the day of.
1. Make Birds Custard according to packaging (doublings or quadrupling the recipe on the packaging as you want enough custard to add to every layer in your trifle).
2. For best results use 2% milk or whole milk.
3. Keep the custard in the fridge overnight as it will thicken up some more as it cools
Making the Whipped Cream with added cream cheese
Add cream cheese and powdered sugar into a bowl and mix at medium speed for 2 minutes until stiff peaks form. Set aside.
In another bowl add heavy cream and vanilla and beat on high speed until soft peaks form.
Add in the cream cheese mixture to the whipped cream and set mixer speed to medium low and mix until well combined.
Place the whipped cream mixture into the fridge until you are ready to use in the trifle.
Assembling the Trifle
In a large glass bowl place a layer of pound cake on the bottom of the dish, Then top it with custard, then strawberries, and finally top it with whipped cream. Repeat this until the bowl is filled.
Decorate with fresh strawberries and whipped cream on the very top layer.
Chill in fridge until you are ready to serve.