Summer weather is finally here but sometimes it feels too hot to be in the kitchen baking. I don't know about you, but I love my desserts and cannot go a season without a cake.  So I thought I better fix this dilemma with a quick and easy no bake chocolate cake!
This no bake chocolate cake is smooth and luxurious.  It has an intense chocolatey flavor from the real dark chocolate and it's paired perfectly with a hint of espresso.  Oh, and did I mention that its low carb, gluten free and Keto friendly?! That's right, this cake is also flourless.
To top it all off, it only requires 5 ingredients!
It time to celebrate summer with this deliciously smooth chocolate cake!
Try these other Keto treats:
Keto Baked Chocolate Donuts with Glaze
Baking Supplies
This post contains affiliate links. If you make a purchase through our links we will earn a small commission at no additional cost to you. Read our full disclosure policy here.
For this recipe I use a slightly smaller loaf pan than I do for when I make banana bread. You can pick one up here.
Also, for this Keto recipe I use this sweetener called Erythitol Monk fruit by this brand.
Can I freeze this no bake cake?
Yes, you can freeze this cake. Once the cake is set, remove it from the pan and wrap it well with plastic wrap and with 2 layers of aluminum foil. Remember to be careful not to break the cake. Once well wrapped, place in the freezer. This no bake chocolate cake should be good for 4 months. When ready to consume the cake, thaw overnight in the fridge until it is soft enough to cut and serve.
Can I omit the espresso?
Yes, you can omit the espresso if you are not fond of the coffee flavor.
Can I substitute milk chocolate for the dark chocolate?
Yes, you can use milk chocolate instead of the unsweetened dark chocolate if you prefer a more sweet flavor. However, keep in mind if you are on a keto diet you will need to replace it with a keto friendly sweetened milk chocolate.
Enjoy this Keto lazy cake!
Yield: 8 servings
Lazy No Bake Chocolate Cake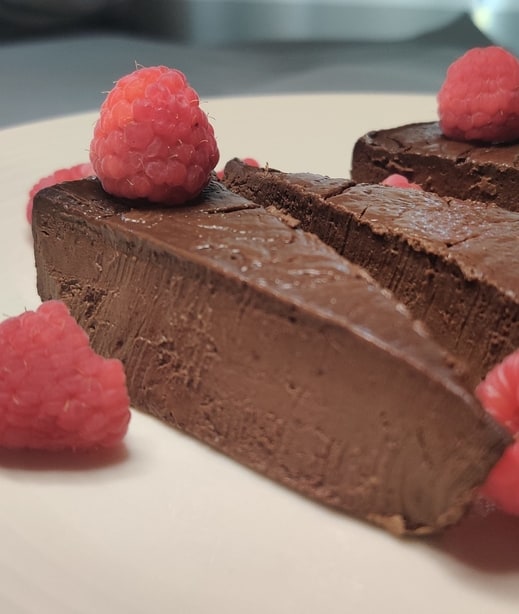 Keto friendly, gluten free, chocolate, no bake, flourless cake
Ingredients
1 cup of chopped unsweetened bakers chocolate or (70% dark is best)
1 cup heavy cream
½ tsp all spice (optional)
2 tsp finely ground espresso
3 tbsps sugar or erythitol monk fruit sweetener for keto option
Instructions
Line a small loaf pan (5X3 inch) with parchment paper and set aside
In a small sauce pan melt chocolate over low heat.
In another sauce pan heat the cream over low heat, stir in espresso, sugar or sweetener, and All spice (optional)
Just before the cream starts to boil, remove from heat and set aside.
Pour the cream over the chocolate and stir slowly until smooth.
Pour into prepared pan, cover with plastic wrap and chill overnight in the fridge.


Notes
Its best to take this chocolate cake out of fridge 10 minutes before serving.