I realized recently that most of our favorite fun family activities are outdoors. They have also become part of our family tradition. I hope that my kids will always remember these outings together as a family fondly when they leave their childhood behind. I'm not really sure how these outdoor activities became our favorite because, to be honest, I'm not the most outdoorsy person!
Preparing for Outdoor Family Activities
Although I have been doing these kinds of outdoor activities since I was a kid, I can honestly say I'm still not super keen on being one with nature! I hate the bugs and getting all sweaty lugging gear through the forest to get to the river. Its certainly not a walk in the park trying to do this! I doubt my parents enjoyed this part of the trip as well, but we do it for the kids!
So I have my own routine to help me prepare myself for these outdoor trips.
Step 1: Hair goes up in a high ponytail or bun
This way it is less likely to get stuck to your neck as you sweat and most importantly, less likely a bug will crawl into your hair. Yes! I have had this happen in the past and you probably don't want your daughters seeing you screaming like a mad women as you are flipping your hair in the forest.
Step 2: Apply excessive amounts of deodorant and dry shampoo
After applying my deodorant, I spray dry shampoo all over my body. I know it sounds strange! I find that this keeps me dry as I am hiking in the damp humid forest in the mid-summer afternoons. And it works for me! If you have sensitive skin then don't try this at home people. I'm not even sure if this is even healthy for your skin!
Step three: Bug Repellant!
I spray that stuff all over myself, including my hair.
Packing for Outdoor Activities
Be sure to pack the following items to take with you:
Water for everyone
Bug repellant spray and sunscreen
Snacks and or sandwiches depending on how long you are planning on staying out
Hand Sanitizer and baby wipes to clean your hands before eating (especially if you are handling worms)
Roll of toilet paper for when nature calls – more for the kids as we adults have mastered holding it in.
Band-Aids and Polysporin just in case
Fully charged cell phone (always a must for an outing with kids)
My husband was actually not a huge outdoor enthusiast when we first met either. However, over the years that has changed as he has new hobbies like fishing and hunting that he really enjoys. Also, with having two girls who too were not huge fans of nature, we thought it was important to expose them to outdoor adventures. Here are the outdoor family activities that we are currently enjoying.
The Tradition of Family Fun with Fishing Continues
Fishing was a major family activity we did when I was a little kid. I remember being woken up before sunrise by my parents who were in the kitchen making noise as they packed snacks and got all the fishing gear together. I was never a morning person even at a young age. Yes, I recall little 10 year old me going downstairs to the kitchen to tell my parents that they have disturbed my sleep in a rude tone. I'm sure that my parents found it adorable. LOL.
But as soon as we would get into the car and start the drive in the early morning; so early you wouldn't see many vehicles on the road, I would feel this sense of excitement.
I enjoyed fishing as a kid and had such wonderful memories. But when I reached my teenage years, I was no longer fascinated by it. I was all like yuck, I'm not going fishing and touching worms! So I stopped going with my family at that point. But I still remember all the fun we had as a family and I think that's what my parents had hoped for.
Fast forward 30 years and now I find myself with my husband doing the same thing as my parents did. The only exception is that since I am still not a morning person, we take our kids fishing in the afternoon. LOL.
My oldest daughter took a liking to fishing immediately and is always ready to go out with her dad. The look of excitement and pride on her face when she reals in a fish is priceless.
But I have to admit, it was a challenge with our youngest daughter. She has made huge progress since she was younger though. She went from screaming in fear if she touched grass with her bare feet and shrieking if she spotted an ant on the driveway, to now going on hikes in the forest and picking up worms.  She is not much of a fishing fan but she does enjoy being outdoors and exploring the forest with me while her older sister fishes with dad.
Places to go Fishing in London, Ontario
Living in London Ontario, we have found a few spots that we truly enjoy taking our kids fishing to. Because the youngest has days where she just wants to go on nature trails we found spots that would accommodate both of our girls.
Sharon Creek Conservation Area – 4212 Springer Rd. Delaware, ON
This place has it all. A beautiful creek for fishing, canoeing and kayaking, as well as nature trails. I have seen the occasional person jump into the water for a swim (its swim at your own risk). They have a portable public bathroom in the parking lot and parking is $5 for the day.
Springbank Park – 1085 Commissioners Rd. W, London, ON
This place has so much to offer like picnic areas with BBQ's and trails for walking and biking. The Thames River runs through the park so there is a lot of fishing spots to choose from. Two biggest benefits of this park is that its free and it has clean washrooms.
Other places we love include:
Komoka Provincial Park – 503 Gideon Drive, London, ON
Kains Woods – beside 1888 Riverbend Road and 1509 Shore Road, London, ON
Geocaching as a Fun Family Activity
Geocaching is an outdoor treasure hunt game that people from all over the world take part in. The purpose of the game is to try to find treasures hidden by other players using your GPS device while exploring interesting locations.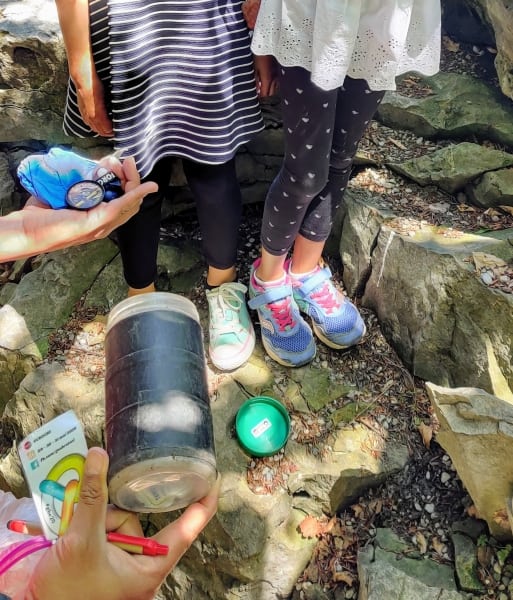 I have discussed everything there is to know about Geocaching in this post called Geocaching is the Ultimate Outdoor Family Adventure. Its a fun activity and a good way to be physically active, get some fresh air, all the while having good quality family time. My family truly loves this outdoor activity.
Going to Farms as a Fun Family Activity
The refreshing taste of sweet, juicy strawberries and blueberries is more than enough to lure us to these wonderful farms.  But you get much more than that and can easily spend an entire afternoon there. 
There are often animals to look at and sometimes even the opportunity to feed them.  The kids look forward to the hayrides and the sweet treats and fresh baked goods they keep in their shops.
These fun family activities and quality time together are all about building those wonderful memories that hopefully our kids will cherish when they grow up and maybe even pass on the tradition to their own kids someday.