Are you on keto and feeling the sugar cravings kick in? This keto coffee cheesecake is sure to satisfy your sweet tooth. In fact, if you are planning on making them, be sure you have enough carb allowance to eat more than one square because these are seriously delicious.
Keto Desserts
I have been obsessing over these Keto brownies for a while now and making them almost every week to get me through the sweet cravings. But I was thinking that it was time to change things and come up with some more low carb desserts.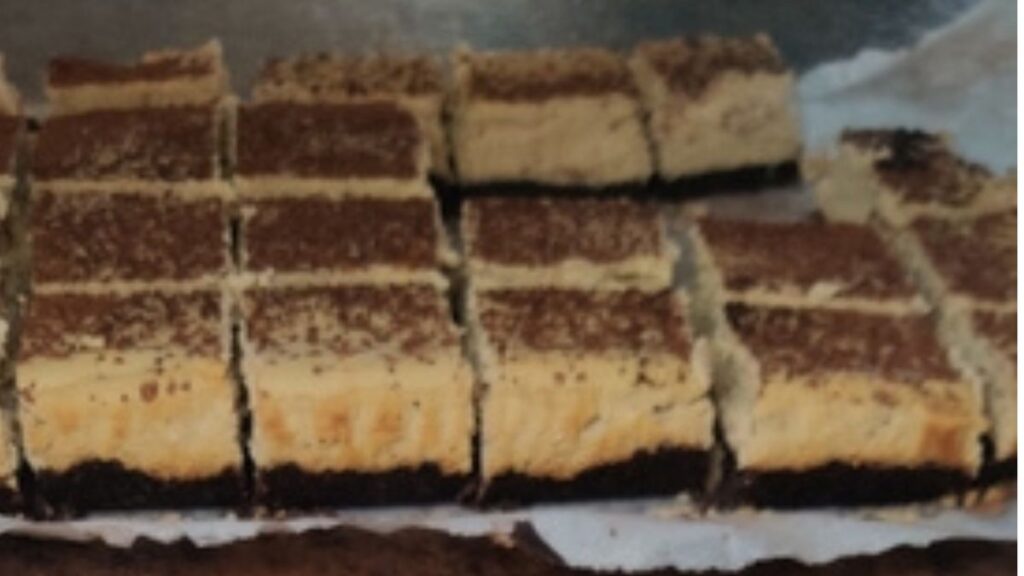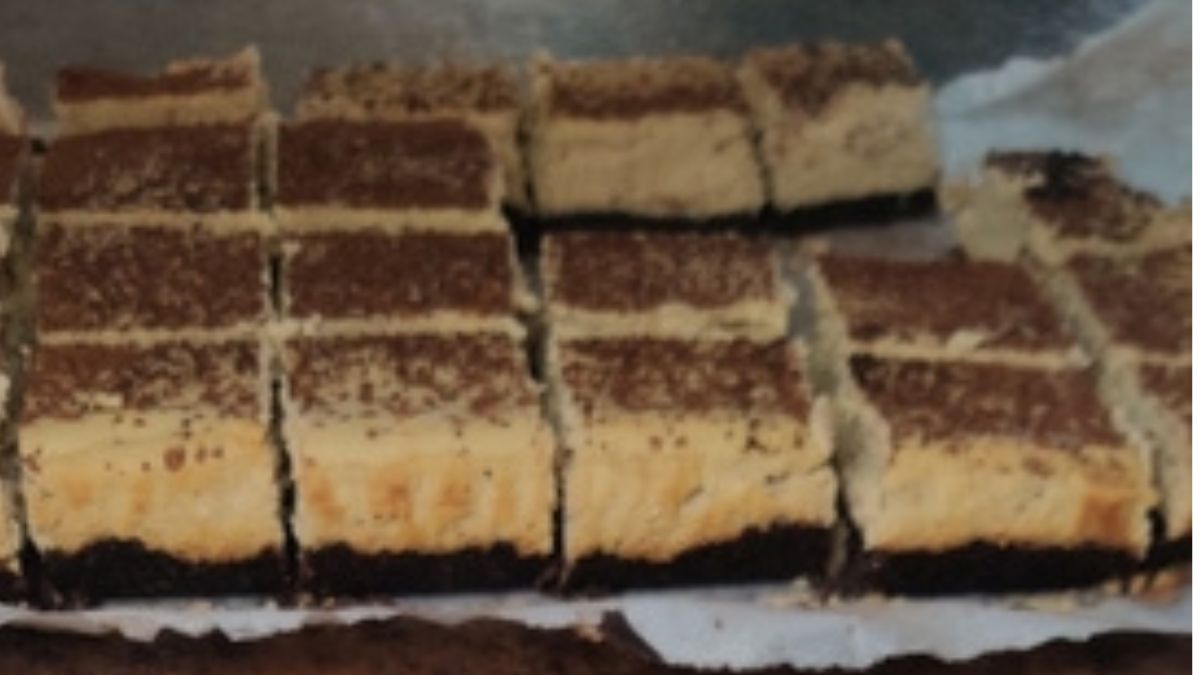 I am a sucker for a good cheesecake. It's my all-time favorite type of cake! So when I tweaked my regular, super quick and easy cheesecake recipe to suit my keto diet, I knew I had a winner.
This coffee cheesecake is super simple to make. The crust is made out of almond flour, butter and cocoa powder pressed down into a pan and baked for a few minutes. While the crust is baking, the prep for the filling takes literally no time.
This coffee cheesecake recipe is gluten-free and has my favorite flavor combination of chocolate and coffee!
Espresso Powder vs Regular Instant Coffee
The instant coffee used in this recipe is espresso powder which is made from dark roasted coffee beans that have been ground, brewed, dried, and then ground to a very fine powder (I like to use Nescafe Gold Espresso). It's much more concentrated than regular instant coffee.
You can replace the espresso powder with regular instant coffee but the coffee flavor won't be as strong if you replace it for the same 2 tablespoons that the recipe asks for. You can always increase the amount to suit your taste.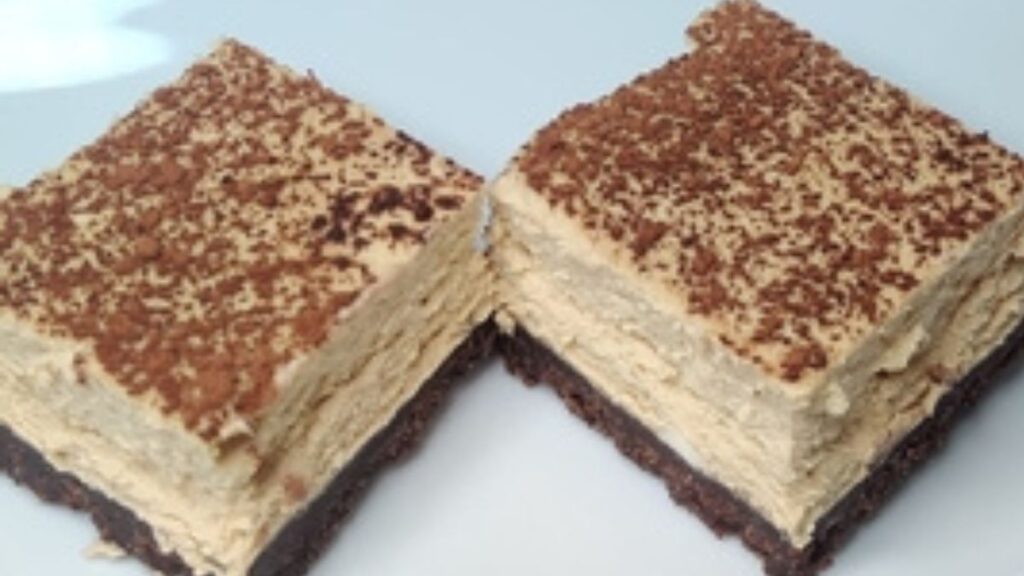 Add a Fat Bomb Supplement
Fat bomb supplements can be added to smoothies and other recipes to provide your body with more fuel, and curb cravings by keeping you satisfied longer.
Products like Naked Keto can add more healthy fats to your keto diet. The supplement combines powdered sunflower oil and powdered MCT oil. The sunflower oil helps support muscle growth, preserve lean muscle mass, and reduce body fat. The MCT oil powder promotes better metabolism and assists with weight loss. There are no additives or artificial sweeteners.
Add one scoop of the Naked Keto supplement to the crust of these coffee cheesecake bars. The dessert will be delicious and even more satisfying.
Storage
This keto espresso cheesecake can be stored in the fridge in an air tight container for up to 5 days. You can also freeze the keto cheesecake bars for up to 3 months.
I truly hope you enjoy this cheesecake as much as I do!
Ingredients
For the Crust
8 Tbsp melted butter
2 cups of almond flour
4 Tbsps cocoa powder
¼ cup monk fruit blend Erythritol sweetener
For the Cheesecake
500g cream cheese softened
2 eggs
1/2 cup Monk fruit blend Erythritol Sweetener
2 tbsp espresso powder (I use Nescafe Gold)
2 tsps vanilla extract
cocoa powder for dusting
Instructions
Preheat oven to 350 degrees F.
Directions For the Crust
Line a 7 X 11 glass baking pan in parchment paper.
In a medium bowl combine flour, cocoa powder, sweetener and melted butter until well incorporated.
Pour out the flour mixture into the lined baking pan and press the crust in firmly into the bottom of the pan evenly.
Bake for 8 minutes.
Remove from oven and set aside to cool a little.
Directions for the Cheesecake:
In a stand mixer or in a large mixing bowl cream the cheese, eggs, sweetener, espresso, and vanilla extract until smooth.
Pour over the crust and spread out the filling evenly in the pan.
Bake for 30 minutes or until cream cheese is set.
Remove from oven and let cool.
Once cooled dust with some cocoa powder.
Chill in fridge for an hour or overnight if possible before cutting into squares.
Notes
Chill in fridge for an hour or overnight if possible before cutting into squares.
| Nutritional Info | Serving Size: 1 Square |
| --- | --- |
| Calories | 232 |
| Fat | 21g |
| Carbohydrates | 5g |
| Fibre | 1.5g |
| Protein | 6g |