I cringe at the thought of cleaning, and I cringe even more at the thought of spending a lot of money on cleaning supplies! So why spend so much on something many of us hate doing?
In my opinion, Dollar Tree cleaning supplies are just as good as name brand cleaning products, without wasting extra money on them.
I can always count on my local dollar store to grab necessarily cleaning supplies that I always need to have on hand these days like Dollar Tree disinfectant spray and antibacterial wipes. But are other cleaning supplies worth it?
Cleaning products at grocery stores or other big box stores can be pricy. So to save some money, I started to purchase my cleaning supplies at the dollar store. Guess what? They actually work! I have used all the cleaning supplies and products listed below and they work just as good as or maybe even better than some brand name products.
Check out these TikTok cleaning hacks to help make good use of your dollar tree cleaning supplies!
Not All Purchases are Bargains
Not all Dollar Tree purchases are worth the price, however, a lot of people really rave about buying cleaning supplies there. Although Dollar Tree locations carry brand name products like Arm & Hammer, Windex and Vim, I advise you to do some research before purchasing these brands as you may not be getting the full size product as you would in a big box store. So check the price per unit to make sure that it's still a good purchase for your dollar.
Check out our complete cleaning routine and free printable checklist!
The Best Dollar Tree Cleaning Products
Here is a list of my favorite Dollar Tree cleaning supplies and products that are big money savers when purchased there.
1. Buckets
A bucket is a staple in your cleaning supplies inventory. A bucket can be used to hold and transport all your cleaning supplies and helps with mopping floors and washing out showers and tubs. If you do not have a cleaning bucket you definitely need to add this to your Dollar Tree shopping list.
2. Stainless Steel Scrubbing Pads
Scotch Brite is a very good band name when it comes to steel scrubbing pads. These last longer than the Dollar Tree brands and even though you only get 2 in the pack as opposed to a higher count as the Dollar Tree brand, these will outlast and get the job done right. Use these stainless steel pads to clean pots and pans with tough food stains, clean grills, and ovens.
3. Squeegee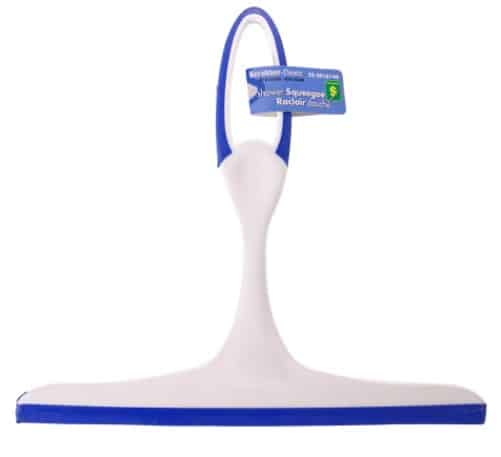 Hate cleaning your showers once a week? Well, if you keep a Dollar Tree squeegee in the shower you can maintain the clean glass doors and tiles for a lot longer. A squeegee is good to have to clean shower doors, shower walls, and windows.
4. Brooms and Floor Cleaning Attachments
A broom is another cleaning staple that can be used to clean the inside and outside of your home. Consider purchasing a few brooms, one for outside use, one for the kitchen and common areas and maybe even keep a separate broom for the washrooms.
When you purchase the broom handle you can and also get different attachments like a mop head or a Swiffer style head. This makes it so cost effective and saves you on storing all the extra tools you may need.
5. Reusable Gloves
Reusable gloves protect your hands from harsh chemicals while cleaning and the Dollar Tree sells several different types and sizes of reusable gloves.
6. Caddies
Use caddies to keep cleaning products organized. You can even fill separate caddies up with the essential cleaning products for specific rooms. Keep a caddy under the kitchen sink with kitchen cleaning essentials and keep one under the bathroom sink with bathroom cleaning supplies. These caddies can easily be carried around the house which will save time and make your cleaning day a lot easier
7. Scrub Sponges
These sponges are your regular generic sponges and are perfect for cleaning and scrubbing dishes and other surfaces. They come in a pack of 6 which is perfect since we should change out our kitchen sponges on a regular basis because they are known to harbor germs.
8. Toilet Brush
Toilet brushes should also be changed out regularly as they do tend to get nasty after a while. Big box stores sell generic brushes like these as well, however they can go for at least $4.00 whereas at Dollar Tree you are only paying $1.25.
9. Laundry Baskets
These baskets are perfect for the laundry room or a closet. Help keep your dark and white clothes sorted or use them for a clean and dirty rag system. I love the fact that I can keep the rag basket on a shelf and quickly pull a clean rag out of a slot without having to move the basket.
10. Toothbrushes
Having extra toothbrushes in the house is a must, whether its for overnight guests who might have forgotten some of their toiletries or for cleaning purposes. These soft bristle toothbrushes are perfect for cleaning grout, around sink fixtures, around burners on the stove top or any hard to reach surface.
Check out our tips for an easy to clean house design!
Dollar Tree Cleaning Products that Actually Work
11. Mr. Clean Magic Erasers
You will be amazed at how well magic erasers work to get any marks out of your counters, walls, skid marks on the floors, and crayon marks. Dollar Tree caries the Mr. Clean brand and even though you only get one eraser for a $1, it is often still a better deal than purchasing them at the big box stores.
The Dollar Tree does have their generic brand in packs of 2, however they fall apart much quicker and do not work as well as the original Mr. Clean brand.
12. All-Purpose Cleaner
This Dollar Tree cleaner is perfect for stove top grease, kitchen countertops and range hoods.
Having a hard time taming the kids clutter? Check out these tips on decluttering kids' arts and crafts and getting the kids to clean up after themselves!
13. Rust, Lime & Calcium Cleaner
If you have hard water keep this spray handy in your bathroom and kitchen. Perfect for glass shower doors, tiles, sinks, and faucets.
14. Baking Soda
Excellent odor neutralizer for the fridge, laundry, as well as cleaning.
15. Steel-Wool Soap Pads
These Brillo pads have a cleaning agent already on them and it works wonders on pots and pans with stubborn baked on stains.
16. Dish Detergent Pods
These dishwasher detergent pods work just as good as the brand name products at a fraction of the cost. A Pack of 10 pods for only a dollar is something other brands could never compete with.
17. Disinfecting Wipes
Keep these handy in your vehicle and purse to have on the go. Its great to have these disinfecting wipes handy when you are out and also sanitize your vehicle.
18. Disinfectant Spray
Disinfect the air in your home, especially if someone in the house has been sick with a cold.
19. Floor Cleaner
This product has an amazing lavender scent and cleans floors beautifully. You can also use it as a multipurpose cleaner and wash your kitchen cabinets with it.
20. Dryer Sheets
Save your money and purchase your laundry dryer sheets at the Dollar Tree. You get so much more bang for your buck even when the brand name products go on sale. Breezy has a variety of scents to choose from and work just as well. Not only are they great in the dryer but also can be used to clean dust off of baseboards.
21. Laundry Stain Remover
This is a must to have in your laundry room, especially if you are too busy to tend to a stain immediately. Spray the stain and leave it alone until you are ready to do the laundry. This product works!
22. Ajax with Bleach
If you have a white kitchen then this product is a must have. Ajax takes out all the stubborn stains. Even though this is a powder product, it is gentle and will not scratch surfaces.
23. Bleach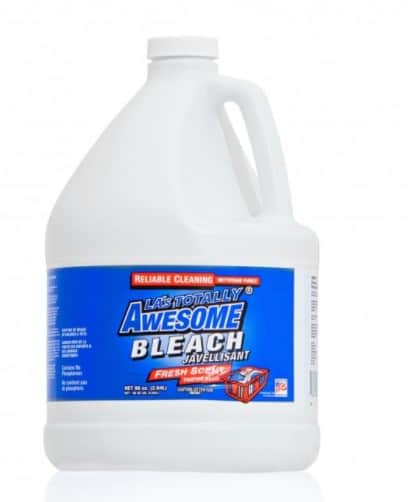 This works just as great as the brand name products but at an incredible price. Perfect for maintaining your whites and disinfecting.
24. Carpet Stain Remover
Removes stains on carpets and upholstery. Does the job just as well as Resolve but for only a $1!
25. Toilet Bowl Cleaner
This cleaner helps remove tough stains, especially if you have hard water in your home.