As a mom of two younger kids I've always wondered, how do busy moms keep their house clean? I have been both a working mom and a stay at home mom, and I never found it any easier to clean living either lifestyle! Mom life seems to always just be hectic.
Also, I just hate cleaning! So I really need a good cleaning routine put together to help me stay focused and motivated to help prevent the buildup of mess and keep me from getting overwhelmed.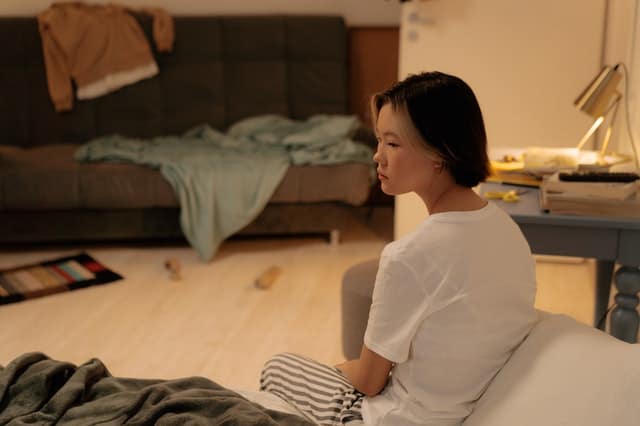 How do I keep my house clean with a busy schedule?
As my children are getting older, I am transitioning from chasing toddlers to school drop off and pick up, work and after school activities. We also have to fit in dinner, homework, baths, bedtime and making lunches.
Squeezing in cleaning time isn't easy and after a full day, energy levels and motivation aren't exactly plentiful either!
So how can a mom keep her house clean with a busy schedule? That answer is really to prioritize and to be organized with what you plan to accomplish. The bottom line is, cleaning a little every day goes a long way.
What is a good home cleaning schedule?
The best way to create a good home cleaning schedule for busy moms is to consider what cleaning needs to be done on a daily, weekly and monthly basis. You might also want to consider an annual and semi-annual deeper cleaning. According to a study conducted by the National Sanitation Foundation International, some of the dirtiest spots in our homes are actually located in the kitchen first, and the bathroom second. Not the other way around like many people think.
Kitchen sinks, rags and sponges, counter tops, faucets and cutting boards are all prone to harbor germs and are really a must clean on a daily basis. The most heavily used bathrooms should be also be wiped down and sanitized regularly.
Knowing this kind of information helps you tackle the cleaning first that matters the most. Once you have taken care of this, you can prioritize other cleaning areas.
Daily Cleaning Schedule Checklist
This daily cleaning is really just tidying up and surface cleaning. Its good to try to tackle this list daily, but if it doesn't all get done, it will be eventually in the weekly cleaning schedule.
Kitchen:
unload dishwasher every AM & start load every PM
wipe down counters and sink
wipe down meal prep area and appliances
Bathroom:
squeegee the shower after every use
wipe down counter and sink
Living Room/Family Room
wipe down coffee & end tables
tidy up pillows and throw blankets
Bedroom
Other:
Do a load of laundry when you have a full load
Take out any trash that needs to be emptied
organize any loose papers, or place in trash or recycling
How do busy moms clean their house fast?
1. Clean as you go
We mentioned this tip in Help! I Hate Cleaning – 15 Tips to Motivate You to Clean. Take advantage of every minute you have available to get something done so that you don't have things piling up at the end of the evening.
For instance, while you have dinner simmering or are waiting for water to boil on the stovetop, go ahead and wash a few dishes or clean the counter. Take on as many mini tasks as you can while you are waiting for dinner cook or something else to happen.
2. Declutter as you go
I have a donation area in my closet. Whatever I know has to go, I put it in that area immediately.
I also make sure the counters are clear of clutter every night. That includes any kid's toys or coloring/activity sheets and loose paper. Everything is organized into their proper area or thrown in the garbage or recycling.
3. Use a checklist
A list really helps me feel more focused and organized. I also feel good when I've accomplished everything on the list. A checklist is great for working out an easy cleaning schedule that works for you.
Get your free printable checklists for daily, weekly and monthly cleaning by subscribing below!
4. Batch your chores
For instance, if you already have the cleaner out for the counters – than clean the bathrooms counters too. If you already have the broom out, then sweep all the floors, not just the kitchen. If you are dusting then keep going throughout the house.
This system is actually much more efficient than cleaning one room at a time. Cleaning by task – dusting, vacuuming, mopping etc. is a better way to make it through the house cleaning faster.
5. Figure out the best supplies for the task so you are not wasting time and energy
Ever feel like you are scrubbing for ages and not getting anywhere? I have used many cleaners that did not do the job I thought they would – from removing mold and mildew to getting the stovetop sparking. Now I know what to use and I keep only those few products on hand.
6. Get the family involved
I don't exactly hand the kids a mop and a dust cloth every day (as much as I would love to!) However I do make them responsible for clearing the clutter that belongs to them. We have some useful tips on how to get the kids cleaning up after themselves here!
The sight of clutter everywhere just makes me feel overwhelmed. It can also be very time consuming to pick up and organize everything before you even get a chance to pick up a dust cloth or a vacuum cleaner. So the kids are really just placing things back where they belong. But even that is a big help.
I also made colorful signs for the kids. They love following the signs we made for them on how to clean their rooms and even how to get their clothes ready for the wash.
How long should I clean everyday?
Some days will take longer than others. For instance, if you are doing the daily tidy up and also vacuuming and mopping the floors, then you are looking at about an hour – depending on the size of your house of course. If you are on a day in the weekly schedule when you are just dusting, then its likely to be 30 minutes.
Some chores take longer than others. If there are days that are busier – such as children's activities in the evening, then consider switching chore days.
Is this a realistic cleaning schedule for busy moms?
Here are things that are realistic in life:
Crumbs will be on the kitchen table, floor and counters
Washroom counters will be wet and messy
Loose papers and other clutter will travel to places they don't belong
Without taking care of the basic mess that inevitably occurs on a daily basis, things will pile up quickly. There are chores that need to be taken care of every day, and by doing so, it will greatly reduce the time it takes to complete your weekly cleaning and your house will rarely look like a hurricane came through it!
Consider customizing a manageable routine for yourself. Establishing a cleaning routine will help busy moms be more efficient and keep the mess from getting out of control.