Oh how I miss a burger on a bun! I don't care who you are, there is no way lettuce wrapped around a burger will ever replace the satisfaction of eating an actual burger!
Since starting my Keto diet, I definitely miss eating burgers the real way in a bun (lets be real here)! I regret to inform you that I haven't yet mastered a bun recipe worthy of placing a juicy meat patty into just yet. However I did come up with a Big Mac salad recipe that does satisfy my craving!
Copycat Keto Big Mac Sauce
This sauce totally reminds me of the big mac sauce you get at McDonalds. This sauce can be used in a salad as dressing, topping on a burger, or even as a dipping sauce for some grilled or breaded chicken.
This Keto Big Mac salad is definitely a meal on its own as it has it all: lettuce, meat, and cheese. This salad is super easy to put together as well. 
What's in the Big Mac Keto Salad?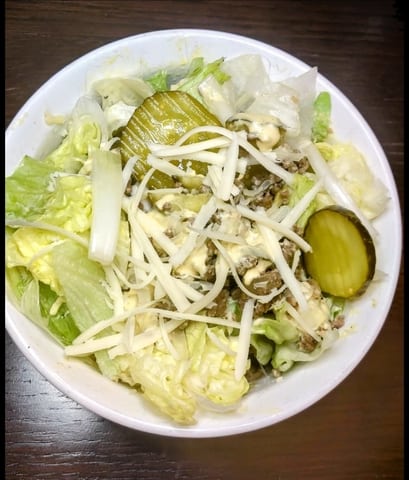 Iceberg lettuce
I find it gives it the most authentic Big Mac experience as opposed to other green leafy lettuce would.
Onions
I use sliced onions in the Big Mac salad and finely chopped onions in the dressing
Burger Meat
I used lean ground beef in this recipe, however you can also make the Big Mac salad with lean ground chicken. Just remember to use lean meat as you do not want a greasy salad. The ground meat needs to be seasoned well to give it that juicy burger taste.  
Pickles
Good bread and butter sliced pickles work best for this recipe. These pickles have a perfect amount of sweetness to them which will not overpower the dressing.
Cheese
Shredded cheddar cheese I find works best. However if you are in a rush as I am sometimes, instead of getting your shredder dirty, I have just cubed up some cheese and it works just as good.
Big Mac Sauce
Sorry, it's a secret. Just kidding. See recipe below.
Can You Assemble the Salad in Advance?
I don't recommend assembling the salad in advance only because it would not keep well. It will likely become soggy and lose its taste. So if you have leftovers, keep all the salad ingredients in separate containers.
Packing this Big Mac Salad for Lunch
However, if you wanted to take this salad to work for lunch, I have assembled it in this specific order and it worked well but I would not recommend storing your salad like this for more than 8hrs. Its best to pack this salad together before leaving for work.
Add the following in a Tupperware container in this order:
Lettuce
Cheese
Hamburger meat
Onions and pickles
Big Mac Sauce
When you are ready to eat, shake your Tupperware container to combine all the ingredients well and now you are ready to enjoy your Big Mac Salad.
Should the Salad be Eaten Hot or Cold?
I personally have eaten it both ways and enjoyed it. My personal preference is to eat it with the hamburger meat warmed up though.
How Do You Store the Leftovers?
Store the leftovers in separate containers. The dressing and hamburger meat should last up to a week in the fridge when stored in air tight containers.
Tip: Lettuce should be stored in a zip lock bag with a piece of paper towel in the bottom of the bag. This will collect any moisture from the washed lettuce and will keep it fresh for longer. The lettuce should keep well for up to 2-3 days in the fridge.
Can I freeze the Leftovers?
You can definitely freeze the hamburger meat in an air tight container once cooled. Your hamburger meat should last up to 4 months in the freezer. However I would not recommend freezing the lettuce or the dressing. For one, the lettuce would get ruined immediately and for the dressing I personally have not tried it. If you do try freezing the dressing please let me know how it turns out for you.
Yield: 4 servings
Keto Big Mac Salad with Copycat Big Mac Sauce
This salad tastes like a big mac without the sesame seed buns!
Ingredients
¾ cup mayonnaise
5 tsp yellow mustard
1 tbsp white vinegar
2 tbsp diced dill pickles
1 tbsp finely diced onion
1 tsp Monkfruit sweetener
1 tsp paprika
½ tsp cumin powder
½ tsp garlic powder
Hamburger Ingredients
1lb of lean ground beef
1 tsp salt
1 tsp black pepper
1/2 onion diced
Pinch of ground thyme
1/2 tsp dried basil
1 tsp garlic powder
1 tbsp Worcestershire sauce
Keto Big Mac Salad
4 cups iceberg lettuce washed and roughly chopped
1 cup shredded cheddar cheese
1/4 cup sliced pickles
1/2 cup sliced onions
1lb prepared hamburger meat
Big Mac sauce for dressing
Instructions
Directions for the copycat Big Mac sauce
1. In a big bowl put all ingredients together and give it a good stir to combine well.
Directions for the Hamburger
1. In a non-stick frying pan sauté your onions slightly for 1 minute
2. Add ground beef to the onions and cook until browned (if it starts to stick to the pan add a 1 tbsp of oil)
3. Once beef is browned, drain.
4. Add rest of ingredients and stir. Cook until beef well cooked.
Directions for the Keto Big Mac Salad
1. Add one cup of lettuce in each bowl, then divide the sliced onions, sliced pickles and shredded cheese between the bowls and give it a good toss to mix the salad.
2. Add the hamburger meat on top of the lettuce and cheese
3. Drizzle with Big Mac Sauce
Serve immediately and enjoy!





| Nutritional Value | Per 1 Serving |
| --- | --- |
| Calories | 623 |
| Carbohydrates | 5g |
| Protein | 33g |
| Fat | 51g |
| Fiber | 1g |
| Sugar | 3g |
If you're looking for more Keto meals, try this Mexican Zucchini Lasagna and this Simple Cabbage Soup recipe.