Everyone in the family loves this cabbage soup, so its one of those dishes that's in rotation every few weeks in my household. What's not to love about a dish that is considered to be comfort food, and also super healthy, hearty, easy to make and low cost.
With my Croatian background, I grew up eating a lot of cabbage dishes and this recipe was one my mom would make frequently for the family. I have watched her make this dish since I was a child and have now been making it for my own family for the past 10 years. Both my daughters are huge fans of this soup and I have a feeling it's one of those recipes that will stay in our family for a very long time.
Health Benefits
This cabbage soup is a hug in a bowl! It is a perfect soup to have on a cold day, it's flavorful, packed with nutritious vegetables and can be totally versatile to suit your taste preference. You honestly cannot go wrong with this dish.
A lot of people make cabbage soups as a detox in weight loss because it is low in calories. But for me this soup means comfort, a quick meal on a busy day and best of all its super inexpensive.
Storing Cabbage Soup
Since I not only cook for my household but also for my elderly in-laws, they too enjoy this cabbage soup, so I always send them a small pot. I usually double the recipe as it freezes well and can last up to 4 months in the freezer or 4 days in the fridge once stored in an air tight container.
What Can you Put in Cabbage Soup
You can always add more vegetables to the soup like:
*Note if you are using leafy vegetables, make sure to add them towards the end of the cooking time as they will over-cook and turn to mush.
Cabbage Soup for Weight Loss
Keto -If you want to make it Keto Diet friendly, omit the potatoes and carrots from the recipe and add any other Keto approved veggies of your choice.
Higher Protein – Add protein to the dish like chicken or beef (chicken breast, thigh, stewing beef or even ground meat work well in this soup). Our favorite is to use ground beef as it makes the dish taste more like a layman's version of a cabbage roll dish.
Alternative vegetarian protein – Other options would be to use white beans or extra firm tofu cut into cubes.
Other Changes to Suit Your Taste
Add more carbs to the cabbage soup by adding a 1/3 cup of rice or more potatoes
If you like more heat in your food, then add a spoon full of hot sauce, red pepper flakes or some cayenne pepper.
If you prefer a thicker broth, add 4 Tbsps of tomato paste at the start of your soup with 3-4 Tbsp of all-purpose flour to make a thicker broth. This will make your soup more like a meal that is more filling and gives you that stick to the ribs sort of feeling.
This recipe is dairy-free and can be gluten free by omitting the flour as a thickener and ensure you are using gluten free broth.
To make this recipe more simple and quicker to make, use pre-shredded cabbage and frozen vegetables of your choice.
Note: Affiliate links may be used in this post. I may receive a small commission at no extra cost to you if you make a purchase through my affiliate link. Read my full disclosure policy here.
Yield: 1 Large Pot
Simple Cabbage Soup Recipe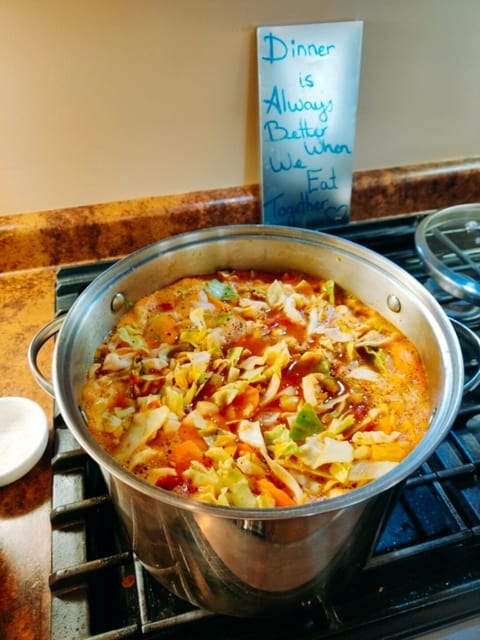 Instructions
In a large pot add oil over medium heat and onions and garlic until onions are translucent (3-5 minutes)
Add flour and stir until lightly browned and the flour is aromatic, then add tomato paste and stir until no clumps. Slowly add a little broth 4 Tbsp or more until the base is smooth with no clumps and make sure that onions and garlic doesn't burn.
Add the rest of the broth, and diced tomatoes along with all the seasonings, including Vegeta Seasoning
Add cabbage, carrots, celery and potatoes and simmer for 35-40 minutes or until potatoes are tender.

Notes
If you are using ground beef, then brown the beef before step one, drain out the fat and put aside on a plate. Then go to step 1. Add back after step 3.

Serve in a bowl with a dinner roll, garlic bread, or crackers.

Looking for some more delicious soup recipes? Check out this easy Curried Butternut Squash Soup.