Note: Affiliate links may be used in this post. I may receive a small commission at no extra cost to you if you make a purchase through my affiliate link. Read my full disclosure policy here.
I have searched high and low for an easy chocolate chip cookie recipe that will satisfy the taste buds of the entire family, including my own! I have concluded that this chocolate chip cookie recipe needs to be crispy AND chewy at the same time!
How to Make Crispy and Chewy Chocolate Chip Cookies
To make these chocolate chip cookies both crispy and chewy, its really about having the right amounts and kind of flour and sugar. The amount of flour needs to be carefully measured. Too much flour can make the cookies more dry. Not enough flour can cause cookies to spread too much, making them thinner and likely more crisp.
You also need to use the correct ratio of white sugar to brown sugar. White sugar tends to make cookies crispier. This is because white sugar releases more moisture as it bakes compared to brown sugar. Brown sugar is basically white sugar with added molasses. Brown sugar retains more moisture and therefore allows a cookie to be more soft and chewy.
Making Chocolate Chip Cookies without Brown Sugar
You can definitely substitute brown sugar with white sugar. The cookies will still taste great. However it will change the texture. As mentioned above, brown sugar contains molasses which helps retain more moisture while baking. If you are only baking with white sugar, then the cookies will turn out to be much crispier.
How to Make Your Own Brown Sugar
If you really want to use brown sugar but have run out, you can make it yourself! For 1 cup of brown sugar, add 2 teaspoons of molasses to 1 cup of granulated white sugar and stir until completely mixed. For a dark brown sugar, add 1 tablespoon of molasses.
If you don't have molasses on hand, try using maple syrup as a substitute. For 1 cup of brown sugar, add 1 tablespoon of maple syrup to 1 cup of granulated white sugar.
How to Store Chocolate Chip Cookies
Keep the baked cookies in an air tight container at room temperature for up to a week.
To freeze cookie dough, you can form the balls on a tray and put them in the freezer for around 3 hours. Then remove the tray and place the frozen balls of cookie dough in a freezer bag and leave it in the freezer. This will make it easier to bake them when you are ready.
Creating the Perfect Easy Chocolate Chip Cookie Recipe
In our family we all have our own opinion on what a cookies texture should be like. I like mine soft and chewy and my husband loves his more on the crunchy side. As for the kids, it just needs to be loaded with lots chocolate and nuts!
Because the demand for chocolate chip cookies in my house is high, I need a recipe that is easy enough to make quickly when everyone has that craving! I have been baking with my mother since I was a little girl and thought I knew enough to make my own recipe with my daughters. Having daughters who love spending time in the kitchen with me brings back fond memories.
Not only do my little girls love baking with me but they also love doing science experiments so, we decided to come up with our own cookie recipe. And I have to admit we did a pretty darn amazing job with this one!
So now we call this the family chocolate chip cookie because it suits us perfectly. It's got the chewy soft center, a little crispy on the edges and it's loaded with chocolate and nuts. It's a win – win for everyone in our household and I'm sure it's going to satisfy your cookie cravings as well. This is my go to cookie recipe from now on and it seems to be a hit with everyone who tries it.
My Baking Tools
I use this Kitchenaid Stand mixer all of the time. It definitely help make preparing the dough much faster and easier.
I use this non-stick bakeware set by Circulon. I bake my cookies on these and even chicken and it never sticks!
Yield: 15-18 Cookies
Crispy Chewy Chocolate Chip Cookies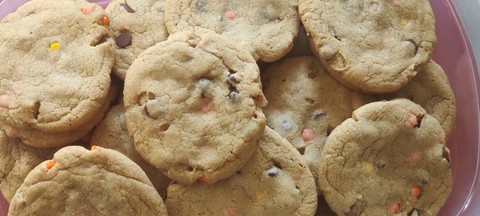 Prep Time
15 minutes
10 seconds
Cook Time
12 minutes
10 seconds
Total Time
27 minutes
20 seconds
Ingredients
1 cup softened butter
1 cup white sugar
1 cup packed dark brown sugar
2 eggs
1 tsp baking soda
½ tsp salt
3 cups all-purpose flour
2 cups chocolate chips
1 cup chopped walnuts (or your favorite nut, or other topping. Or Omit altogether if you prefer just chocolate chips)
Instructions
Preheat oven to 350 F
Cream butter and all sugars until light and fluffy
Add egg to butter mixture (one at a time), then add vanilla extract
In a separate bowl add all the dry ingredients and stir to combine well (flour,
salt, baking soda)
Add flour mixture to butter mixture (heaping spoonfuls at a time until
all flour is incorporated well with the butter mixture)
Stir in chocolate chips and chopped nuts if using
Drop 1 ½ tbsp full of cookie batter onto a baking sheet spaced 1" apart and bake for 10-12 minutes
Notes
Let cookies cool on baking sheet for 5 minutes, then transfer to a cooling rack.
For more delicious cookie recipes, check out these Ginger Molasses Cookies