I love appetizers before the main meal. Its like warming up before a workout except its more fun to eat than exercise! I've been really excited about coming up with different appetizer recipes and these salmon stuffed mushrooms are one of my favorites.
For more appetizers, check out these Mini Eggplant Pizza Bites.
Smoked salmon stuffed mushroom caps are perfect for any occasion. I love serving them at parties and they are also a huge hit with my family! So, whenever the craving strikes I make them.
They are effortless to make and when served at parties everyone will think you worked so hard to prepare this delicious appetizer.
What Kind of Mushrooms Can I Use for This Recipe?
You can use just about any large size mushroom. Try to find mushrooms big enough to hold the stuffing. Just keep in mind that mushrooms will reduce in size a bit while baking, so the bigger they are the better.
Try these Easy Stuffed Bell Peppers!
You can use white or brown mushrooms for this recipe. I personally like to use Portobello mushrooms as they are large in size and have a nice meaty texture.
Do I Use Canned or Fillet Salmon?
I like to use the salmon fillets below. They are frozen but you can definitely use fresh salmon and canned salmon is an option too.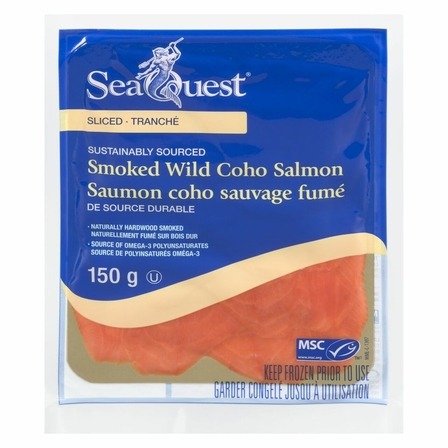 Step-By-Step Guide on How to Make Smoked Salmon Stuffed Mushrooms
1. First purchase mushrooms large enough to stuff
2. Wash and pat dry your mushrooms with a paper towel. Drying is very important as this will reduce the amount of liquid released while baking.
3. Prepare the filling and the breadcrumb garnish in a bowl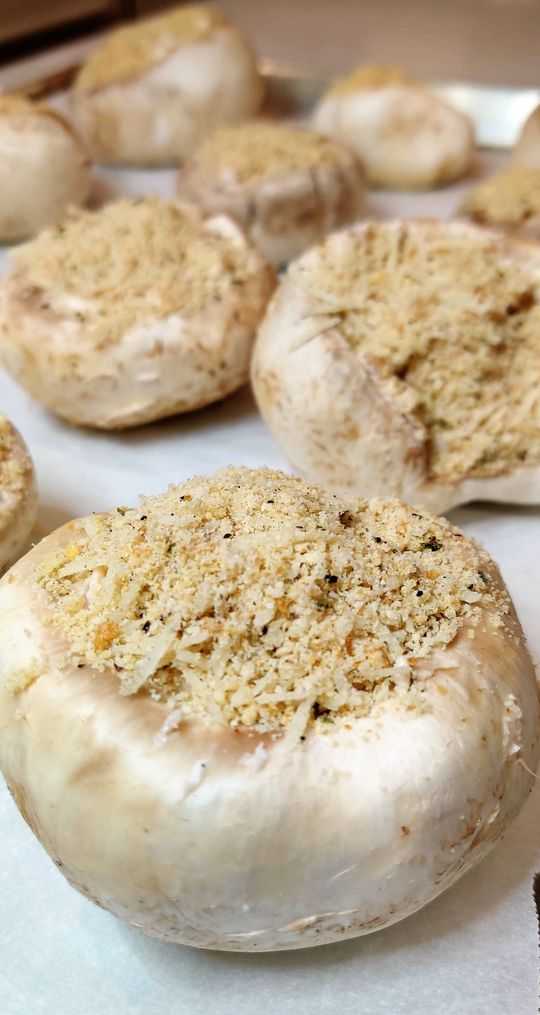 4. Start stuffing and sprinkle with breadcrumbs garnish
5. Place the salmon and cream cheese stuffed mushrooms on a rimmed baking sheet in a single layer so any liquid that is released from the mushrooms stays in the baking sheet and not in the bottom of your oven.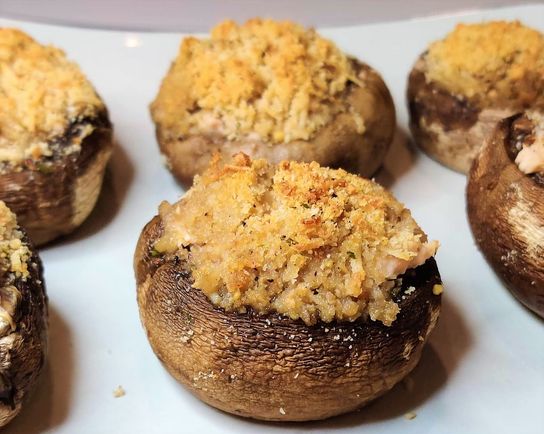 What Can I Stuff Mushrooms With?
Have fun with the stuffing and make it your own! Here are some suggestions:
·  Don't like salmon? Try shredded chicken or skip the protein altogether
·  Add garlic
·  Sprinkle some green onions
·  Include your favorite shredded cheese in with the cream cheese
·  Substitute parmesan cheese for Gouda, mozzarella or any other cheese
·  Reduce your carbs by leaving out the breadcrumbs all together
Can I Make This Stuffed Mushroom Recipe in an Air Fryer?
Yes, you can use your air fryer to make these smoked salmon mushrooms. You won't be able to make them all in one batch however as you will need to place them in the basket in a single layer. I would recommend to set the air fryer at 400 degrees F and set the timer for 8-10 minutes or until the toppings are nice and golden (air fryers range in temperature so check on the mushrooms at 8 minutes and adjust your time accordingly).
Are These Stuffed Mushrooms Keto Friendly?
Yes, this appetizer is keto friendly when you omit the breadcrumbs.
Can I Make Smoked Salmon Stuffed Mushrooms Ahead of Time?
You can pre-make the stuffing and get the breadcrumb mixture ready ahead to save you some time. Make sure that you keep the stuffing and breadcrumb mixture in an airtight container and store it in the fridge overnight. I don't recommend actually stuffing the mushrooms ahead of time as the moisture might change the texture of the mushrooms. However if this step is a must then go ahead and do it and keep the stuffed mushrooms in the fridge overnight in an air tight container and bake the next day.
How Do You Store the Leftovers?
Store in the fridge for 1 to 2 days in an airtight container. Reheat in the oven or air fryer before consuming.
Makes 18
Prep Time: 15 minutes
Cook time: 15 minutes
Ingredients:
18 large size mushrooms
¾ cup cream cheese
¾ cup smoked salmon diced
1 tsp dried dill
1 tbsp lemon juice
1 tbsp capers roughly chopped
¼ cup chopped fresh parsley
½ cup bread crumbs
2 tbsp grated parmesan cheese
Directions:
1. Clean mushrooms and remove the stem
2. Pre-heat oven to 375 Degrees F
3. In a bowl combine cream cheese with salmon, dill, lemon juice, capers, parsley and stir well to combine
4. Stuff mushrooms with cream cheese filling
5. In a small bowl combine bread crumbs with parmesan cheese and stir until well combined
6. Sprinkle breadcrumbs over the stuffed mushroom caps and bake for 15-20min or until breadcrumbs are golden brown
Enjoy!
Yield: 18 Mushroom caps
Salmon Stuffed Mushrooms - an Amazing Appetizer!
Delicious smoked salmon and cream cheese filing in large size mushroom caps
Ingredients
18 jumbo mushrooms
¾ cup cream cheese
¾ cup smoked salmon diced
1 tsp dried dill
1 tbsp lemon juice
1 tbsp capers roughly chopped
¼ cup chopped fresh parsley
½ cup bread crumbs
2 tbsp grated parmesan cheese
Instructions
Clean mushrooms and remove the stem
Pre-heat oven to 375 Degrees F
In a bowl combine cream cheese with salmon, dill, lemon juice, capers, parsley and stir well to combine
Stuff mushrooms with cream cheese filling
In a small bowl combine bread crumbs with parmesan cheese and stir until well combined.
Sprinkle breadcrumbs over the stuffed mushroom caps and bake for 15-20min or until breadcrumbs are golden brown