No, we're not trying to put clowns out of business. Nor am I training my kids to be clowns! Though I'm trying to be open minded about their lifestyle choices! I just happen to come upon a balloon twisting kit, and I thought, what a great kids activity idea!
Kids Creative Activities at Home
I know there is a constant need for creative kid's activity ideas at home. Kids are bored. Parents need them off screens and off our nerves. We need activities that require thought and creativity, but have achievable results and is actually fun and entertaining.  Preferably for a good chunk of time.
Any craft or activity that loses their attention within a half an hour isn't going to help much. Although yes, we'll even take 30 minutes of peace.
Why I Like Basic Balloon Twisting for Kids
1. New and Exciting
Making balloon animals and other things isn't a typical craft or activity that kids would do.  Most kids have always loved balloon animals too.  We have previously spent even up to an hour at a time at events trying to get a balloon animal made by a clown. 
For some reason, kids are really attracted to balloon wiener dogs and swords. Many kids think its cool to be able to make them on their own.
2. Its a Process
Its not just a matter of blowing up the balloons using the pump and twisting away.
It's a several step process so it takes time and thought to work on each part of the balloon animal or object at a time. If you are watching a video tutorial, there's lots of pausing in between to get one part of the instruction right before moving on to the next.
3. Self Learning
Following Instructions – Depending on how independent your school-aged child is, they may need some parent involvement initially to get them started. But eventually they will be able to follow the instructions on their own.
Trial and error – it will take some time to get it right. There are spacing considerations that must be made before the twisting. Sometimes its not done right and has to be redone. Its all part of learning and takes practice to get it right.
4. It's a STEM Activity
Building and construction, molding shapes – this is all part of STEM and making balloon animals. If kids get to a point of trying to make animals and objects on their own without video tutorials, this can lead to them wanting to properly plan and design their own project.
5. Its Not One and Done
We can keep going back to it when they are bored. The first few tries haven't been perfect.  We've made dogs with front legs bigger than the back! We've gone back and tried the same animal a few times and will eventually move to more advanced ones.
For this reason, I think investing in a decent kit is not a bad idea.
Balloon Twisting Supplies
All you really need is a good pump and good quality balloons.  We did end up purchasing a kit that came with a lot of balloons and some nice extras listed below.
Note: Affiliate links may be used in this post. I may receive a small commission at no extra cost to you if you make a purchase through my affiliate link. Read my full disclosure policy here.
100 long balloons
Pump
Easy to follow DVD tutorials
Instruction manual
Balloon Twisting Tutorial – How to Learn Basic Balloon Twisting
What I love about purchasing the kit as opposed to just the balloons and pump separately is that the kit has a great step-by-step tutorial for each animal or object. Its very easy to follow and the kids can easily pause, rewind and forward the videos.
Balloon Twisting Ideas
Dogs – the tutorial has a poodle and a wiener dog
Sword – ninja, pirate and space swords
Flower
Giraffe
Swan
Monkey
Bunny
Carrot
Bear
Frog
Dinosaur
To name a few! There are a ton more ideas, and more complex ones as well that require more than one balloon. I would definitely stick with basic balloon twisting ideas to start with – such as the dogs, simple sword and basic giraffe. This will help kids (and adults!) get the basic technique of balloon twisting down.
How to Twist Balloons into Animal and Other Objects
Here are a few step-by-step pictures of how the kids made these cute little dogs. There are also many tutorials you can find on Youtube. I've included a popular one below with a dog making tutorial.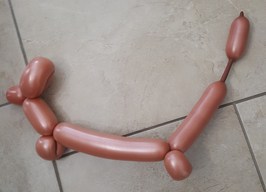 Was the Kit Worth it?
This kit is going to last us quite a while since it has a hundred balloons! This kit was definitely worth the investment. However, there are much smaller kits that will work just as well and there are many free, helpful tutorials online too.
The kit probably has even more balloons than we really needed but I figured it was good in case accidents happen in the beginning! I had expected more balloon popping but we've only had a couple of incidents so far!
But I also think it will be a great idea to do when we get the kids together with their friends. So the more balloons we have, the better!
Learning Opportunities
Balloon twisting requires patience. It isn't easy. Some kids will get frustrated. Mine certainly did! But they enjoyed it, so it wasn't enough to make them quit or turn them off from it. They know that the more they try it, the better they will get.
I could definitely see the satisfaction on their faces when they were able to complete a project like a dog and sword.
Is it Fun?
The kids love it. Its fun and we can easily spend an hour or two at a time working on balloon twisting projects.
Hey, if it lands them a summer job one day then why not!
If you're looking for more kids STEM activity ideas, try these building and construction sets and these science experiments.