Rice, that humble and versatile pantry staple, has a special place in kitchens around the world. Whether you're a seasoned chef or a home cook, rice dishes offer endless possibilities. From comforting classics to exotic creations, rice can be the canvas for a multitude of flavors and cuisines. The following is a list of rice recipes that are so flavorful and aromatic that you will never eat bland rice again.
Pakistani Pilau
Pilau rice is a delicious and flavorful Pakistani rice dish. It is definitely a family favorite! Pilau rice is cooked in a stock with whole spices, onions and meat which is then used to flavor the rice. Some people may call this a Pakistani brown rice recipe, but the rice is only brown after having been cooked in the meat stock.
This pilau recipe (some spell it pulao) is a meat pilau recipe. The meat that is pictured is actually goat meat. However, chicken pilau is quite popular, along with lamb, mutton and beef.
Brown Rice Mushroom Pilaf
Love Mushrooms? This is going to be your new favorite – Easy, healthy & delicious Brown Rice Mushroom Pilaf. A flavorful one-pot dish with just 5 ingredients. It is perfect to make on a weeknight and enjoy as a side or as a meal. Even better, make it on the stovetop or in the Instant Pot.
Locrio De Pollo – Dominican Chicken and Rice
Try our this Locrio de pollo – the Dominican chicken and rice recipe – the most popular locrio in our country which combines vegetables, rice, and chicken in a juicy, flavorful rice dish that will knock your socks off. Lunch has never been as fancy or tasty as this dish.
Cumin Beef Fried Rice Recipe
This beef fried rice recipe is the perfect one-bowl meal that combines ground beef, leftover rice, and the warmth of cumin for the perfect meal! It's faster than takeout and only takes 15 minutes to make this from scratch. This fried rice tastes incredible and goes with just about everything.
Lentils And Rice Recipe – Instant Pot Recipe
This lentils and rice recipe is delicious as a plant-based meal or even a wonderful side dish!
Pico de Gallo Rice Bowls
Pico de Gallo Bowls! Featuring fresh tomato rice, fajita vegetables, black beans and guacamole.
Coconut Rice and Beans
Coconut Rice and Beans is a Caribbean-inspired, easy-to-make side dish that's packed with protein and flavor! Tender black beans and perfectly cooked rice cooked in nutty coconut milk and seasoned with lots of tropical spices. It's great served with grilled meats and seafood, tacos, or eaten as a meal on its own. It's vegan, gluten free, made from mostly pantry ingredients and is one of my favorite sides of all time.
Instant Pot Jambalaya
Are you looking for a mouthwatering one-pot meal that's bursting with flavor and easy to prepare? Look no further, because we've got the perfect recipe for you: Instant Pot Jambalaya! This tantalizing, Louisiana-inspired dish combines a medley of delicious ingredients and spices, all cooked together in your Instant Pot.
Pumpkin and Mushroom Risotto
One of the great ways to use pumpkin puree is to add it to a risotto. My Mushroom And Pumpkin Risotto is easy and delicious one pan dinner recipe with flavors of fall.
Spanish Rice
The prep time for this dish can be 15 minutes or less – depending on how fast you are with your can opener. LOL. This is a perfect meal to make on a busy weeknight when you don't have a lot of time and the kids are hangry. Spanish rice is a healthy meal and is a versatile option as well. You can serve it as a side or as the main course, and you can add a protein like chicken or fish.
Cilantro Lime Rice
Cilantro lime rice is a perfect side dish for practically any meal. Best of all, its very quick and easy to make. It's a perfect side for your summer dishes as the lime and cilantro combination are so refreshing.
Turmeric Rice with Almonds & Pomegranate
This colorful, savory and sweet vegan rice dish is a perfect accompaniment to your dinner table. Our Turmeric Rice with Almonds & Pomegranate is easy enough for everyday cooking and also special enough to go side by side with your most festive holiday dish.
More Recipes: Delicious Sweet and Savory Loaf Recipes that Won't Disappoint
What can be better than the aroma of a freshly baked loaf? Whether you're someone who loves the comforting sweetness of freshly baked bread or you're into the savory taste of herbs and spices, all the recipes on this list are super delicious and easy to make. The following is a list of both sweet and savory loaf recipes.
Delicious Sweet and Savory Loaf Recipes that Won't Disappoint
Irresistible Homemade Melt-in-Your-Mouth Donuts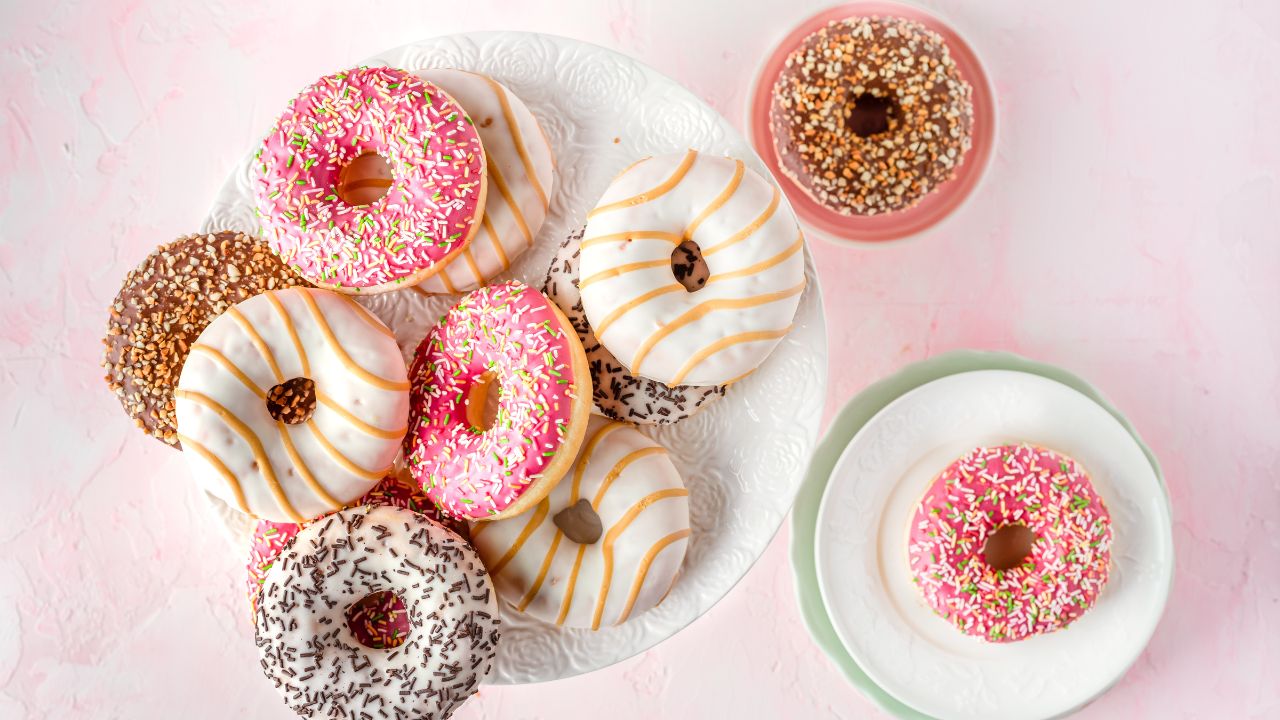 Welcome to the delightful world of donuts, where golden rings of fried dough meet a universe of flavors and toppings! But these smart, innovative donuts are barely fried so they are half the fat but full of flavor. The following are a list of donut recipes of all varieties to bake at home fresh when the craving strikes.
Irresistible Homemade Melt-in-Your-Mouth Donuts
Prepare for an Epic Flavor Explosion with These Ground Beef Recipes
Ground beef is a versatile ingredient that can be used in countless recipes, making it a staple in many households. From quick weeknight dinners to comforting family favorites, ground beef can be transformed into delicious meals that are both satisfying and easy to prepare. Whether you're a seasoned cook or a beginner in the kitchen, these easy ground beef recipes are sure to become go-to favorites that you'll come back to time and time again. With a little creativity and a few simple ingredients, you can whip up flavorful and hearty dishes that are perfect for any occasion.
Prepare for an Epic Flavor Explosion with These Ground Beef Recipes
Transform Your Dinner with These Exciting Chicken Recipes
Chicken is probably the most versatile and popular meat that many people like to use as the protein in dinner recipes. It's affordable, easy to cook, and can be prepared in a variety of ways to suit any taste or preference. Whether you're looking for a quick and easy weeknight meal or something more sophisticated to impress your dinner guests, chicken dinner recipes are the perfect solution. From classic comfort food dishes like roasted chicken to global flavors like chicken curry and stir-fry, there's no shortage of delicious and satisfying chicken dinner recipes to choose from. Here is a list of chicken dinner recipes to add to your weekly dinner rotation.
Transform Your Dinner with These Exciting Chicken Recipes
Prepare to Be Addicted to These Insanely Delicious Cookie Recipes
Cookies are generally quick and easy desserts pleasing to adults and kids alike. There are so many different kinds of cookies to choose from, each with unique flavors and textures. The following are some of the best cookie recipes that are sure to satisfy your sweet tooth and leave you with a smile on your face. Whether you prefer soft and chewy cookies or crispy and crunchy ones, we've got you covered. So grab a glass of milk and get ready to indulge in some delicious cookies!
Prepare to Be Addicted to These Insanely Delicious Cookie Recipes