This is an easy low carb healthy recipe your entire family will love. I personally love the fresh taste of the lemon combined with the light sauce. It's my favorite dish to have on a hot summer night.
My kids were so amazed that you can make spaghetti (zucchini noodles, a.k.a zoodles), which is their all-time favorite noodle, out of a vegetable. Shockingly they love vegetables…yeah I know!
Do You Need a Spiralizer to Make Zucchini Noodles?
If you don't have a spiralzer, you can use a regular grater like I do, or a food processor. The noodles may not be as long, but I find its easier to eat!
Do you Have to Peel Zucchini for Zoodles?
No there is no need to peel the zucchini. In fact its better not to because the peel helps the vegetable hold its shape.
What is the Best Way to Prepare Zoodles?
The best way to prepare zoodles is to pan fry them for a few minutes until they are slightly tender. You must move the noodles around with the tongs so that they don't burn or overcook in one area.
Why Are My Zucchini Noodles Soggy?
Its likely that they were overcooked.
Yield: 4 Servings
Lemon Garlic Shrimp with Zucchini Noodles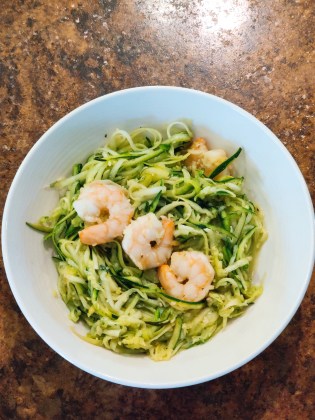 Lemon flavored shrimp with zucchini noodles
Ingredients
4-6 medium/large zucchini
30 raw shrimp, cleaned and peeled
5 garlic cloves minced
2 tbsp olive oil
Juice and zest of 1 lemon
½ cup of vegetable broth (or chicken broth)
1/4 cup chopped parsley or 1 tsp of dried if you do not have fresh
Salt and pepper to taste
Instructions
Wash and cut the ends of the zucchini. Using a grader, make the zucchini noodles. Place the zucchini pasta in a bowl lined with paper towel to absorb extra liquid. And set aside
Heat oil in a pan over medium – high heat. Add the shrimp and sprinkle with salt and pepper and cook for a minutes.
Add the minced garlic, and cook for a few more minutes while stirring.
Transfer the shrimp and garlic to a plate and set aside.
Add a little more olive oil to the pan, lemon juice, lemon zest and broth to the pan and bring to a simmer.
Add the zucchini pasta and toss for a minute or two to warm it up. Add the shrimp back to the pan and stir for a minute.
Top with parsley and serve.


If you are looking for more low carb recipes, check out these Tuna Kebabs!
A coloring page related to the recipe as well as activity sheets can be printed for free after subscribing below. The activities included in the bundle are:
Ingredients word search
Ingredients word unscramble
Word maker using the words ZUCCHINI NOODLES
Kitchen scavenger hunt
Color by numbers page
Cryptogram joke
Scavenger hunt with a different theme