These are the best easy Italian Sloppy Joes and they are so handy when you are short on time or energy! Its even more perfect when I have leftover meat sauce from a pasta dish I have made previously.
As much as I enjoy cooking and creating new recipes, I'm not a fan of cooking every day. Mostly because the kitchen clean up at the end of the night is not my favorite thing to do! Hence, I cook to intentionally have enough for leftovers!
Most of the time I just freeze the leftovers.  It will always come in handy on busy days where its tough to fit in cooking a meal, and if someone is craving chicken or a lasagna I can just pull it out of the freezer and thaw it out.  It really doesn't take much to cook a bigger batch of whatever you're preparing for dinner to help you out in the future when you absolutely have no time or energy to cook.
I normally don't recreate something different out of my leftovers but I was feeling creative and thought of trying something other than just boiling some pasta! But, even if you don't have leftover meat sauce saved, making these sloppy joes is still quick and easy if you are using store bought tomato sauce.
This Italian sloppy joe sandwich is super easy and tasty! It takes me less than 15 minutes if the meat sauce is already prepared and around 30 minutes if I need to make it. Everyone thoroughly enjoys these sloppy joes. I was pleasantly surprised that my kids were even willing to give this sandwich a chance because they are hard core spaghetti lovers!
The toasted garlic bread topped with the meat sauce and melted cheese is the ultimate comfort food.  So if you've had a super busy day and need something quick, or just having a lazy mom moment –try this Italian sloppy joe sandwich.
Easy Italian Sloppy Joes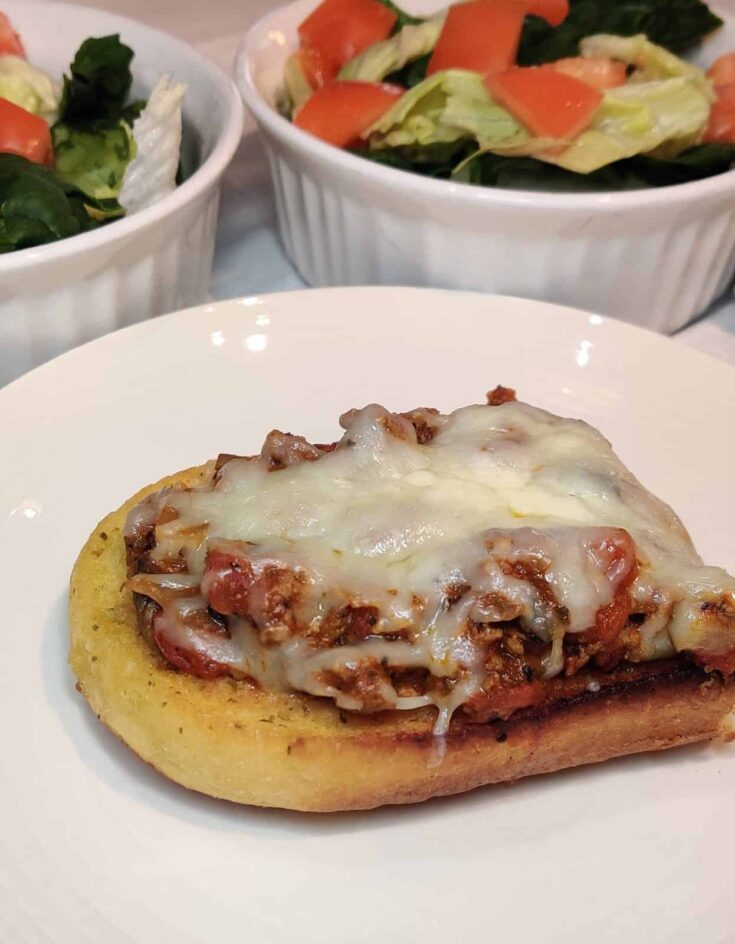 meat sauce on garlic bread
Ingredients
1lbs ground beef
2 cloves garlic
1 large onion
1 bell pepper diced
A jar of any tomato sauce
1 tbsp dried basil
1tsp dried oregano
1tsp garlic powder
Salt and black pepper to taste
garlic bread
shredded cheese – whatever kind you like, I prefer Mozzarella
Instructions
In a skillet, brown the ground beef
Add the garlic, onions and pepper and cook until soft, stirring occasionally.
Once the beef is cooked and the peppers are tender, add the tomato sauce, basil, oregano, garlic powder, salt and pepper.
Cook for 3 – 5 minutes until the sauce starts boiling and is thoroughly heated.
Toast your garlic bread.
Once your garlic bread is toasted, top it with the hot meat sauce and then the shredded cheese. Place on a baking sheet and broil for a few minutes until the cheese starts to melt and bubble.


Notes
Serve with a side salad and enjoy your meal.
Looking for more easy ground beef recipes? Try this Ground Beef Stroganoff